Home

Product Line

Safety Cameras, Monitors & DVR

Sanitation

Video Pipeline Inspection

Video Manhole Inspection

Jetter Cleaning Nozzles

Ice/Snow
Material Spreaders

Power
Sweeping

Street
Maintenance

Leaf Collection

Recycling

New/Used Equipment
In Stock,
Ready to Deliver

Parts

Complete
Financing

Contact Us



"Quality
Service
Since 1978"
Street Maintenance,
Street and Road Repair,
and Debris Cleanup Equipment
from Municipal Equipment Sales, Inc.
We look forward to earning YOUR business.
The L-200-C and L-100-C Truck Mounted Loaders, built by PB Loader, are Two Machines in One.

Why use two machines to handle a loading job when there's one machine for all your needs? PB Loader combines a dump truck and a loader into one unit. It's designed to load, haul and dump material with just one machine--so it saves operation costs, reduces manpower, and lets you tackle a variety of jobs that would otherwise require several pieces of equipment.
| | |
| --- | --- |
| | The 100 Series is for Conventional Cabs |
| | The 200 Series is for Tilt Cabs |

PB Loader is built tough and loaded with features that improve productivity and safety. An exclusive arm design allows the operator to get in and out of the cab when the shovel is on the ground or in the travel position. PB Loader is available with a 3000 lb. or 5000 lb. shovel lifting capacity and can be equipped with a clam, tilt, clam/tilt, or standard shovel. Shovel capacities range from 3.4 cu. yd. to 1.5 cu. yd. Safety switches shut down all systems if the cab door is opened or the dump body is raised during loading operations.
PB Loader offers these proven features:
Fully hydraulic operation -- loader operates with one lever from inside truck cab.
rugged, durable construction for long-term performance. Adaptable to Cab-Over or Conventional truck chassis.
Truck doors, dump body, and loader are controlled by interlock switches.
Shovel can be stopped in any position.
Fast operation cycle (10 seconds).
Designed for multiple jobs -- leaf and trash removal, clear and clean gutters, handle utility cuts, load and haul gravel, dirt or sand.
Can be equipped with an emulsion spray system for asphalt patching and road repairs.
---
The UniBelt Patcher, built by PB Loader, helps make street repair and maintenance a cost-effective process.
When it comes to pothole patching, the UniBelt Patcher by PB Loader is a top solution. Available in a variety of configurations, they are all easy to operate and maintain. These even include a 'slip-in patcher' that allows you to convert an existing dump body into a patcher!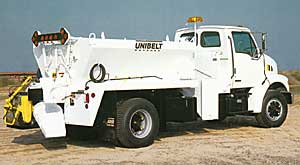 Features include a chain belt conveyor, radiant heating system, and an insulated asphalt container and top doors. UniBelt Patchers are very versatile, so you can use them to repair potholes, road shoulders, and utility cuts as well as spread salt, sand, and chippings.
They are available in truck-mounted, dump body slip-in, and trailer models.
| | |
| --- | --- |
| | Slip-in Unibelt Patcher |
| | Trailer Mounted |
| | Unitized Patcher |
---
PB Loader Emulsion Sprayer.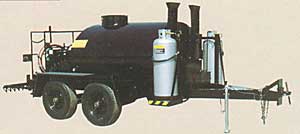 Model 600D has a 600 gallon capacity with a 10-18" fill opening, and a 20 gallon solvent tank; pump capacity is 10 GPM at 1200 RPM; and it offers an LPG heating system and distributor bar. Options include lights, hitch chains, sump, and a basket strainer.
For more information on emulsion sprayers or optional equipment: email us.
---
After the Sale: You can always count on our experienced support personnel to provide you with follow-up services, including replacement parts and product information.
How can we serve your needs?
For more information about any of our municipal equipment products, give us a call or send us an email.
---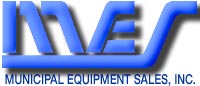 Address: PO 1233
Woodstock, GA 30188

Local: 770-928-0424
Fax: 770-200-1690

Nationwide Toll Free: 1-800-782-2243

Email: sales@municipalequipment.com
MES Home | Product Line | Storm & Disaster Cleanup Trucks
Video Pipeline Inspection | Pipeline Nozzles | Safety Cameras | Knuckleboom Trash Loaders
Sanitation | Recycling | Leaf Collection | Street Cleaning | Street Maintenance
Ice/Snow Material Spreaders | New/Used Equipment | Parts | Complete Financing