Home

Product Line

Safety Cameras, Monitors & DVR

Sanitation

Video Pipeline Inspection

Video Manhole Inspection

Jetter Cleaning Nozzles

Ice/Snow
Material Spreaders

Power
Sweeping

Street
Maintenance

Leaf Collection

Recycling

New/Used Equipment
In Stock,
Ready to Deliver

Parts

Complete
Financing

Contact Us



"Quality
Service
Since 1978"
Your One Stop For Parts
is at Municipal Equipment Sales, Inc.
We look forward to earning YOUR business.
---


We provide parts for all the equipment lines that we sell. If you need parts for refuse equipment, sweepers, recycling equipment, or sewer cleaners, Municipal Equipment Service has what you need. You'll find our prices to be competitive, and we provide same day shipping of in-stock parts. Whether you represent a City, County or State Government agency, a private company or are a private individual, our parts professionals will provide you with the same excellent level of service.
Just give us a try. You'll find that our experience, knowledgeable staff and commitment to excellence will keep you coming back. We can save you time, money and aggravation!
Manufacturers We Represent
| Barker | E-Z Loader |
| Tarrant | OTTO | SPEAR |
| PB Loader | RS Technical | POSM |
| Global Sweepers | Pak Rat | Impac | Petersen |
| Loadmaster | Pak Mor | Ace Loaders | John Bean |

If you need parts for any refuse, recycling, sweeping or sewer cleaning application, just give us a call. Chances are, we have what you need, or we can help you find it.
For more information about any specific parts we carry, give us a call or send us an email.
---
After the Sale: You can always count on our experienced support personnel to provide you with follow-up services, including replacement parts and product information.
How can we serve your needs?
For more information about parts for any of our lines of municipal equipment, give us a call or send us an email.
---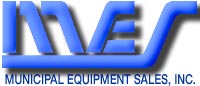 Address: PO 1233
Woodstock, GA 30188

Local: 770-928-0424
Fax: 770-200-1690

Nationwide Toll Free: 1-800-782-2243

Email: sales@municipalequipment.com
MES Home | Product Line | Storm & Disaster Cleanup Trucks
Video Pipeline Inspection | Pipeline Nozzles | Safety Cameras | Knuckleboom Trash Loaders
Sanitation | Recycling | Leaf Collection | Street Cleaning | Street Maintenance
Ice/Snow Material Spreaders | New/Used Equipment | Parts | Complete Financing