Home

Product Line

Safety Cameras, Monitors & DVR

Sanitation

Video Pipeline Inspection

Video Manhole Inspection

Video Manhole Inspection

Video Pipeline Inspection

Jetter Cleaning Nozzles

Ice/Snow
Material Spreaders

Power
Sweeping

Street
Maintenance

Leaf Collection

Recycling

New/Used Equipment
In Stock,
Ready to Deliver

Parts

Complete
Financing

Contact Us



"Quality
Service
Since 1978"
Info About the RST Company

from Municipal Equipment Sales, Inc.
| | |
| --- | --- |
| | For over thirty years, R.S. Technical Services, Inc. has been an innovative, driving force in the closed circuit televising, or CCTV, pipeline inspection industry and has brought many first time products to the U.S. infrastructure maintenance market. |
As always, RST understands that while excellent quality and performance are critical to happy customers, the way we conduct our business continues to drive our high rate of business retention. We remain determined to provide exceptional customer care before, during and after the sale. RST takes pride in our commitment to keep you productive, because we know lost time is lost money.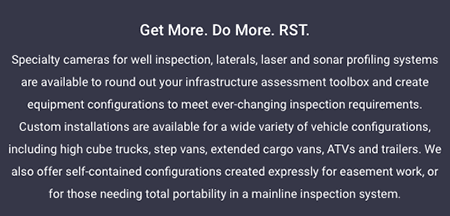 Under the leadership of a second generation of the founding Sutliff family, we continue to innovate on the bleeding edge of CCTV technology. We're making significant investments in our own infrastructure, staff and logistics to make sure you always have what you need, when and where you need it. We've got our finger on the pulse of this industry, and make it a point to lead the way in durable remote inspection equipment that always proves and investment instead of an expense.
For a brief (2:46) overview of RSTechnical and the products they make, check out the video below. Or, contact your Municipal Equipment sales representative using the links at the bottom of this page.
---


Click on the graphic to access a 20-page RST brochure in Acrobat PDF format that offers information on the RST product line. If you don't already have Acrobat Reader, use the link shown to download the free Acrobat Reader. If you want to save the file to your computer so you can access it later or print it, use the 'File, Save As' command in your browser.


---
After the Sale: You can always count on our experienced support personnel to provide you with follow-up services, including replacement parts and product information.
How can we serve your needs?
For more information about any of our municipal equipment products, give us a call or send us an email.
---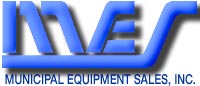 Address: PO 1233
Woodstock, GA 30188

Local: 770-928-0424
Fax: 770-200-1690

Nationwide Toll Free: 1-800-782-2243

Email: sales@municipalequipment.com
MES Home | Product Line | Storm & Disaster Cleanup Trucks
Video Pipeline Inspection | Pipeline Nozzles | Safety Cameras | Knuckleboom Trash Loaders
Sanitation | Recycling | Leaf Collection | Street Cleaning | Street Maintenance
Ice/Snow Material Spreaders | New/Used Equipment | Parts | Complete Financing